If there's one thing marketers should have learned in the past few years, it's that the play button is the most compelling call-to-action on the web. An estimated 80% of the content we consume online will be video by the year 2019, and marketers who use video are growing revenue 49% faster than non-video users.
These are impressive statistics, but to many businesses, they can seem irrelevant. After all, video isn't a suitable format for your message, your brand, or your audience, right? Wrong.
Here are 10 types of video every business can use to engage their audience, generate leads, streamline their internal processes and grow their revenue.
1. Sales Introduction Videos
Salespeople can suffer from an unfortunate reputation as annoying, untrustworthy and even aggressive. What better way to dismantle this stereotype than establishing a human connection from the get go?
A great sales process is one that builds a strong connection with the prospect, earning the trust needed to garner a commitment to buy. Videos that provide a personal introduction to your sales team humanise the process, establishing trust from the beginning and even sparking valuable talking points with your prospect.
Consider this example, featuring Matt from SaleCycle:
Introducing Sales Reps in a Memorable Way | Wistia Video Inspiration
2. Blog Videos
Using video content on your blog has several benefits. Not only is video a format that today's audiences love (43% of consumers say they want more of it from brands), it's an effective way to improve your SEO.
Research conducted by search engine experts SEMrush found that time on site is a significant ranking factor for Google. An engaging video is an effective way to keep eyeballs on your content for longer, in turn boosting your average time on site and overall SEO performance.
Video hosting website, Wistia, found that the impact of video on time-on-site on their own website pages was day and night:
Average time spent on pages without video: 2 minutes and 48 seconds
Average time spent on pages with a video: 7 minutes and 21 seconds.
If you're only getting started with producing video content, try repurposing high-performing editorial content into video and analyse the results.
3. Product Videos
A SaaS company without a killer product video is like a hotdog sans sauce: underwhelming.
Videos immerse your prospect in the shiny features of your product in ways that still images just can't. However, producing them has traditionally been expensive, and out of reach for many smaller companies.
Thankfully, tools like ScreenFlow are making great product videos accessible to all budgets and all skill levels. The screen recording and video editing software is a far more forgiving user experience than more comprehensive programs like Adobe Premier, but can still produce top-shelf videos with some practice. It's perfect for guiding your viewers through the user interface of your software in an engaging way.
Design company InVision are proud exponents of the software, and use it to produce product videos like these:
4. Tutorial Videos
Tutorials translate perfectly to video because for many people, the learning process is visual. So whether they be product explainers, process walkthroughs or simply educational content, video content can be a breakthrough performer.
In fact, one of the most popular marketing series online today uses a deadly simple, low-cost video production to educate their audience on often-complex topics. Whiteboard Fridays, hosted by the "Wizard of MOZ" Rand Fishkin, are 10-minute tutorials on everything SEO. Rand uses a whiteboard to illustrate concepts as he speaks through the content, like in this video on internal linking strategies:
Should SEOs Care About Internal Links - Whiteboard Friday
5. Company Culture Videos
At their best, 'about us' pages can be entertaining, insightful and inspiring to prospects. At their worst, they can be a tiresome combination of long-winded text, a few unflattering headshots, and some incomprehensible garble about how the business will somehow change the world as we know it.
If you're aiming for the former, video is the perfect candidate to transform your mundane company information into an engaging brand story. For example, take digital agency Huge, who throw their audience headfirst into their company culture: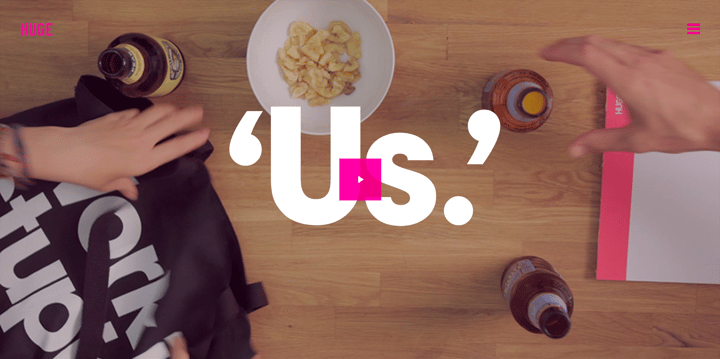 6. Homepage Banner Videos
You homepage banner is your first impression. Leave a bad one and your prospects will bounce from your site before getting beneath the fold. Leave a good one and your prospects will be incensed to dig around, reducing bounce rates, boosting time on site and presenting you with more conversion opportunities.
Video banners are an effective strategy to engage your web visitors from the moment they land on site. They immediately present the message, style and purpose of the brand, and support the homepage copy. For example, Altus Financial's fast-paced banner presents an energetic and genuine business, who are dedicated to your finances.
https://www.altusfinancial.com.au/
7. Videos for Lead Generation
Video content isn't all glitz and glamour; these premium content assets can take on a lead generation role with the right strategy behind them.
Gating your content won't work on every video (after all, would you submit your contact information just to watch a 40-second company culture video?). But for more technical, educational videos (especially delivered by a senior employee), gated videos can be a great source of leads.
eCourses, like Locomote's 'C-Suite Strategies for Effective Travel Management' are an ideal format for gated educational videos:
C-Suite Strategies for Effective Travel Management
8. Testimonial Videos
You may have the most sincere, eloquent and genuine written testimonial on the web, but there will always be prospects who doubt its authenticity, saying "they probably made that guy up."
Testimonials are used to build trust. However, a written testimonial with a business logo and a headshot often don't cut it, and often struggle to get the message across in a few short lines. On the other hand, video testimonials can be one of your company's best content assets, particularly in those later stages of conversion.
Team messaging platform, Slack, uses video testimonials to not only build the credibility of their brand, but to describe the individual features of their product. Take this Slack testimonial from Sandwich Video:
Video testimonials like these invite prospects into the office of an impartial third-party, clearly demonstrating how the product has changed their business for the better.
9. Live Social Video
No list of marketing videos would be complete without mentioning social media. The big social channels are becoming almost ubiquitously video-based (with the exception of LinkedIn), which reflects the desire for snackable and engaging content when browsing in social mode.
Facebook Live Video has emerged as the frontrunner for social media videos, with the format viewed more than three times longer than other social videos and receiving over 10 times the number of comments.
Facebook Live Videos also bare well in the Facebook algorithm, with many followers actually receiving notifications when a live video begins. After all, why would Facebook penalise businesses for keeping their users engaging on the platform?
But for most businesses, the idea of shooting a live video for social media is intimidating and even confusing (what should we film? Our boardroom meeting?). The best live videos are inherently interesting, like Dunkin Donuts who took their audience behind the scenes into the production process:
However, the live video game isn't just for B2C companies. With some creative thinking, B2B businesses have succeeded in engaging their social following with in-the-moment educational content, like HubSpot's live video tutorial on email writing:
10. BOFU Helpers
Videos aren't only useful in attracting visitors and converting them into leads - they can be highly effective at the bottom of the funnel. Like the sales introductory videos mentioned above, BOFU helper videos are designed to enrich the sales process, getting prospects over the line.
FAQ videos and product demonstrations can be a great way to cover all bases with your prospect, address lingering concerns, and leave nothing left for them to do than to buy. If your prospect still needs some convincing, personalised video messages can go that extra mile to impress:
How 3 Companies Use Personalized Videos to Win Trust | Wistia Blog
Video is a sure-bet for so many businesses, but it does require expertise. To discuss how our Video & Interactive services could take your visual content to new heights, get in touch with us today.